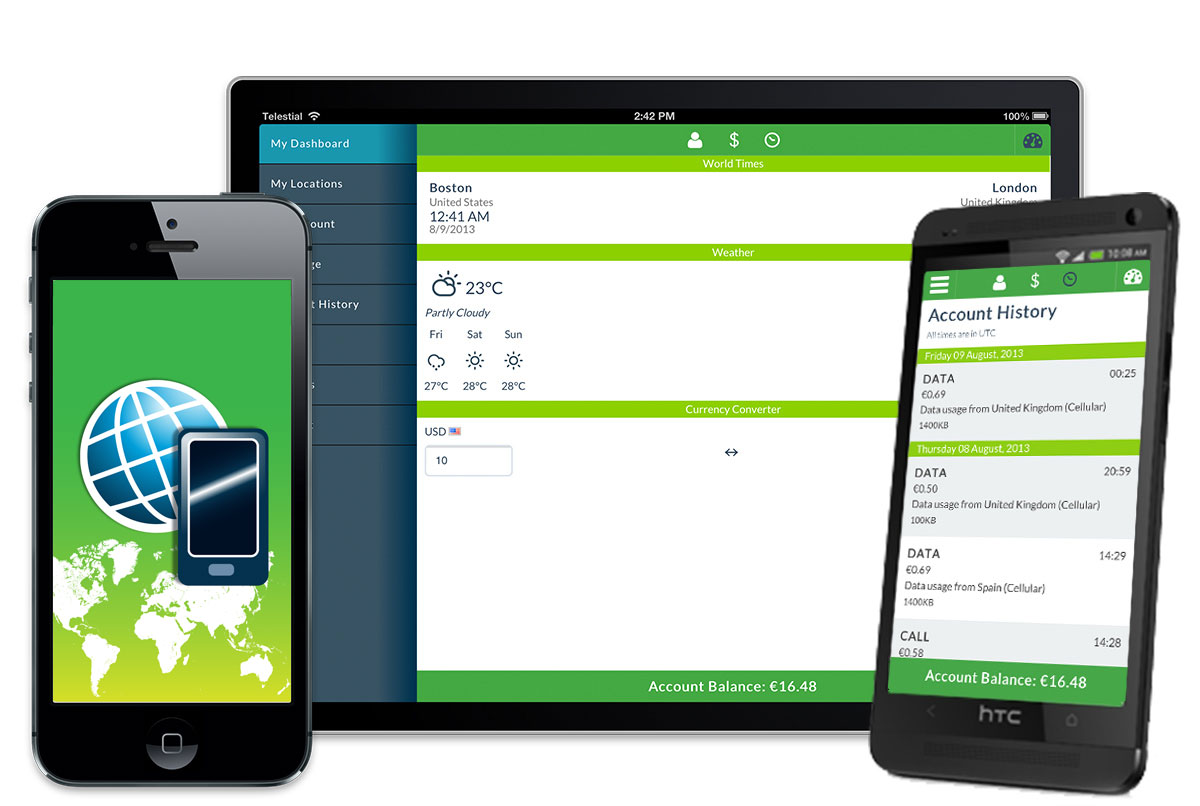 Download our Free TravelApp
The ultimate travel companion for today's traveler.
Check your Account Balance
Recharge your Account
Up to the minute Calling History
Currency Converter
World Clock & Weather




Learn More from Us

An unlocked GSM mobile phone with a local Prepaid SIM card or an International SIM card with global coverage, offers a superior option for travelers who are considering roaming with their existing mobile phone service or contemplating an international mobile phone rental service. Learn More
Brief Intro to International Mobile Phone Use

Outside of the United States and a handful of countries, international mobile phone carriers operate on a unified standard called GSM (Global Services for Mobile). This is why a mobile phone for London will also work in Paris, Johannesburg, Beijing and Sydney. This GSM standard requires a GSM mobile phone and a SIM card. The SIM card is a small chip that allows your phone to connect with a local wireless carrier in the country you are visiting. To learn more about GSM and other international mobile phone standards, we suggest you read the first few articles in the Getting Started section.
International Mobile Phones

If you want an international mobile phones service, you will need a phone that is GSM compatible and SIM-unlocked. An often described global phone, travel mobile, travel phone or world phone is merely a GSM mobile phone that operates on the 900, 1800 and 1900 frequencies. If the world phone is unlocked it will work with any prepaid SIM card in Europe (also see Italy Mobile Phone Promo, UK Mobile Phone Promo, Spain Mobile Phone Promo and France Mobile Phone Promo), Africa, Asia (also see the Explorer Roaming card for Japan mobile phone service), Australia (Australia mobile phone promo) and New Zealand. To check out our range of phones, click on this link: International Mobile Phones.
Prepaid SIM Cards and International SIM cards

After you purchase your international mobile phone, or if you already own a world phone, you will need a SIM card for service. A SIM card is a postage stamp sized chip (the brain of the phone) that snaps into the back of your phone. The SIM card enables your phone to find and connect to a network, and then make calls. Changing SIM cards is a very easy procedure and varies depending on your phone. All the International SIM cards we offer are prepaid. Prepaid SIM cards may be purchased for a specific country, you then get a local phone number and benefit from local rates that nearly every time include free incoming calls! To view the selection of local SIM cards, click on Prepaid SIM Cards.

If you are planning to travel around the world, or visit multiple countries on your next trip, and want a single US or Global number, then we recommend purchasing an International SIM card. We offer four different International SIM card services that each offer coverage in over 180 countries and an US and Global number. For more information on this option, click on International SIM cards.
Travel Journal

A travel journal, also called travel blog or travelogue, is a record made by a traveler of their trip. Generally in dairy form, a travel journal contains descriptions of the traveler's experiences, and can be written during the course of the journey (and more often that not completed once the traveler has returned home). Telestial's Travel Journal or blog makes this easy, by automatically creating an entry each day with images of the location visited, weather experienced on that day at that location, a map of that location and a description of that location. The traveler can customize their Journal as much or as little as they wish, whilst they are traveling or when they return home! View Demo
Prepaid Data Plan

A data plan enables you to surf the internet, IM with your friends, read your email and send MMS if your phone supports these features. All our International Cell Phone and Global SIM card packages come with a prepaid data plan with roaming data coverage in over 150 countries. We also offer 3G data coverage in over 90 countries which has substantially faster download speeds than GPRS data. You can also purchase our global data plan with a wireless modem to use with your PC whilst on the road (when a WIFI connection is not available).
Telestial News Updates

Jan 14, 2014

The rate to send text messages has been lowered from $0.69 to $0.39 in 29 countries for the Telestial Passport SIM.

Jan 7, 2014

Data usage rates have been reduced in France and Anguilla for the current range of Telestial international SIM cards.

Nov 22, 2013

Data usage rates have been reduced in Luxembourg for the current range of Telestial international SIM cards.